posted 02-16-11 03:01 PM EDT (US)
---
There has been a fair amount of Shogun 2 news recently and these three are the latest.
First off forumer
Generalscruff spotted that CA have revealed a Shogun 2 Demo will be released on Tuesday 22nd February. A full three weeks before the release date so we can all pass the time quicker! Discuss the upcoming demo in the thread here.

We also learned, thanks to forumer Liam_the_Spartan, of some cavalry units we'll be able to use in our armies once we have the game. Full unit features for the powerful Great Guard, Bow Cavalry and Katana Cavalry can be read in Liam's post on the forums, here.


The in-game unit card of the Great Guard.



Last but not least Jack Lusted has posted an overview of sorts based on his campaign as the Shimazu Clan. There is a decent amount of new information and beautiful screenshots, including this one of the Shimazu starting location: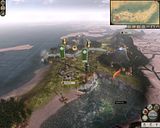 We have a discussion going on our own Shogun 2 forums which you can read and participate in here. Otherwise you can read Jack's full post here.